Is a Skydiving Proposal a Good Idea?
DZ News
Posted by: Parachute Ottawa 8 months ago
Love is in the air … literally! Okay, okay — but really, there is nothing more romantic and bonding than saying "I do" to your one true love.
With non-traditional weddings and marriage proposals gaining in popularity, lovers are in search of unique ideas for tying the knot or asking that oh-so-important question. Which is why a 'skydiving proposal near me' may be top of your search list when thinking of planning the most outrageous, breathtaking proposal to impress your daring darling!
Here are a few ideas to consider when planning your skydiving marriage proposal!
Skydiving Proposal
A romantic walk on the beach, an eye-mazing hike to the top of a mountain at sunset, or a candle-lit dinner under the stars – these are all classic marriage proposal ideas. While they are classic and timeless, they might be a bit worn out.
Give your loved one an experience that will sweep them off of their feet and have them enthusiastically screaming "YES". Feeling the rush of adrenaline, the swarm of dopamine, serotonin, and other feel-good hormones will have you both beaming in ecstasy.
You'll have your partner freefallin' deeply in love with you with our unbeatable, exciting skydiving proposal idea!
Is A Skydiving Proposal A Good Idea?
Abso-freakin-lutely! A skydiving proposal is a great idea for several reasons; it's memorable, adventurous, unique and FUN. What better way to celebrate your bond than with one of the most memorable and life-changing experiences of your life?
Skydiving with your partner is a sure way to test the limits of your relationship, challenge each other to accomplish your goals together, build trust, and ultimately bring you closer together. Your bravery and adventurous spirit will be straight up swoon-worthy!
Feeling nervous? With nearly 185,000 jumps between our staff members, you could say we have a knack for keeping our customers calm, cool, and collected during an extra-level nerve wracking day.
Once you're officially betrothed, you'll get asked a million times about the moment the question was popped – and just wait til you see the heads that'll turn at your epic proposal story! We may be a little biased but we can't think of anything more memorable than dropping down to one knee after skydiving!
Skydiving Proposal Packages
At Parachute Ottawa, we have thoughtfully designed Proposal Packages for your dream-come-true proposal. Our packages take the planning stress away so you can just focus on each other in your special moment.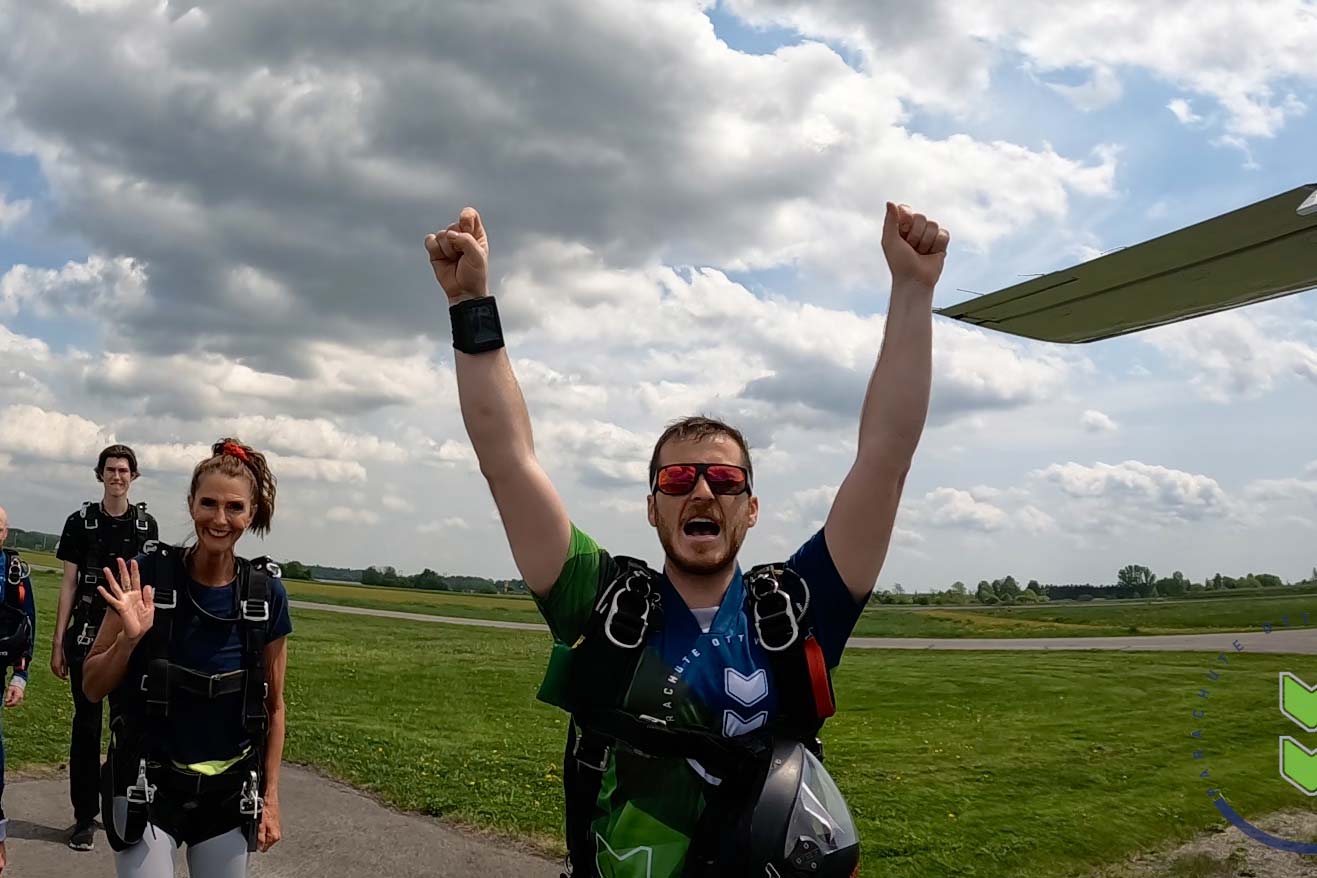 Everything will be taken care of so you can just show up – just don't forget the ring! All of our proposal packages can be added on to whichever tandem skydiving package you choose.
Proposal
Packages
Package Prices
Pop the Question Package
6' x 20' "Will You Marry Me" banner staged in landing area
$100
Celebration Package
6' x 20' "Will You Marry Me" banner and bouquet of flowers
$215
Ultimate I Do Package
6' x 20' "Will You Marry Me" banner, flowers, and ground-level photographer
$375
Skydiving Marriage
Already engaged? Maybe you're seeking a breathtaking skydiving marriage ceremony!? Well, if you are a certified skydiver then you can absolutely have a skydiving wedding – and skydivers do all the time!
While it would be a dream to freefall into happily ever after with your beloved, tandem passengers are only permitted to jump one at a time for safety reasons. This doesn't completely eclipse your skydiving wedding dreams, though – you can recite your vows on the ride up to altitude, seal the deal with a smooch, jump one after the other, and reunite on the ground before sailing off on cloud nine together!
Ready to pop the question? Contact us today to start planning your perfect parachuting proposal with one of Canada's top skydiving destinations – Parachute Ottawa! Blue skies, love birds!!