A Program
Earn Your A CoP
Next. Level. Amazing.
Already have your Solo CoP (Certificate of Proficiency) and not sure how to progress? We've got your back. Our eight-level A Program delivers dedicated, one-on-one support from a skydiving coach who will take you from Novice to A CoP holder. Best yet, you can complete the program at your own pace!
Get Licensed to Fly
In as few as eight jumps, you'll gain the inflight, freefall, canopy control, equipment, and technical knowledge and skills needed to ace your A CoP exam and earn the endorsement of a Skydiving School Examiner (SSE). Once you complete our A Program, you'll earn your A CoP and unlock several privileges … which means not even the sky's the limit!
Jump with other A CoP holders

Participate in water jumps

Get sign-off from your certified peers

Participate in provincial and national competitions

Participate in night jumps
What to Expect
The Canadian Sport Parachuting Association (CSPA) requires Solo CoP skydivers to complete just five levels in order to earn their A CoP. It's a bare minimum curriculum and yields barebones privileges. At Parachute Ottawa, though, our A Program consists of eight levels … we do things thoroughly, or we don't do them at all!
Each level in our A Program focuses on developing a specific skill set, empowering you to incrementally increase your competence and confidence. You'll emerge on the other side with a toolkit full of skydiving best practices, a logbook proving your time in the sky, and the opportunity to jump with other A CoP holders. Plus, you'll have big respect from your SkyFam. Here's a 13,500 foot view of our syllabus.
Level 1: Evaluation of Novice Skill Level
Show your stuff! Demonstrate the exit, freefall, breakoff, and canopy skills you mastered while working toward your Solo CoP.
Level 2: Docking Basics
Build your skydiving knowledge base! Work on your freefall stability and your level and proximity for approach. Dock! Rinse and repeat til you've got it.
Level 3: Levels
Develop your exit strategy; learn the mechanics of tracking; work on turns, up/down movements and different flight modes; and become one with your brakes.
Level 4: Track Jump
Master the art of tracking! Conquer the basics, heighten your awareness and efficiency, and fly perpendicular to the jump run. Practice that sweet spot too.
Level 5: 2 Points Docking
Advance your docking skills by creating the star formation and the open accordion formation with your coach. You'll also get an intro to stalling. So. Awesome.
Level 6: 3 Points Docking
Jump with two coaches to achieve the three-point star and open accordion, and up your canopy piloting game by adding harness turns to your bag of tricks.
Level 7: Dive Basics & Knee Turns
Finesse your dive exit with maintained visuals, level, proximity, presentation and timing; free up your hands with knee turns; and practice the low-turn recovery.
Level 8: Evaluation Jump
This is it! Put it all together to earn the endorsement you've worked so hard for - and then prepare to sit your A CoP exam! Permission for takeoff is in reach!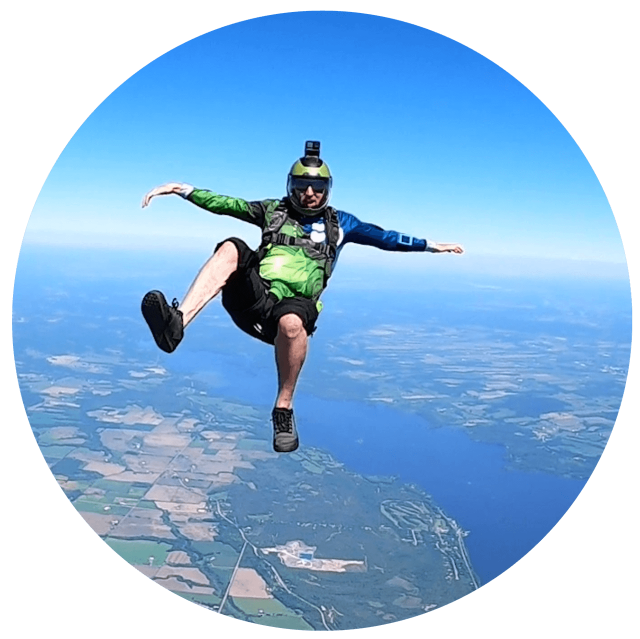 A Program Pricing
8-Level Training Program | $1,292
Graduate with your CSPA A Certificate of Proficiency!
Includes 8 planned jumps

Gear not included

Re-jumps require additional payment
Learn to Pack!
Packing your own parachute is an A CoP requirement. Come pack with us on Mondays – classes are just $25.