First Jump
Tandem Skydiving Ontario
The Ultimate Front Row Seat
Skydiving is life altering – and, thanks to advancements in technology and training, pretty much anyone can do it! At Parachute Ottawa, we offer two awesome tandem skydiving options for your first jump experience. We are the #1 destination for tandem skydiving in Ontario, Canada. What are you waiting for? Choose your adventure!
Tandem Video
Catch Yourself In The Act
The number one regret heard by first time skydivers is not getting video!! Does it cost extra? Yes. Is it worth it? Absolutely! You only make your first jump once – don't shortchange yourself!
What to Expect
Super excited? Kinda nervous? Freaking out? We know exactly how you feel – we were all first-time skydivers once. Although, for some of us, that was a long time ago! The Parachute Ottawa team has nearly 185,000 collective skydives, numerous specialized ratings, years of instruction, and considerable experience with the Canadian Armed Forces. We were voted Best Skydiving Centre in Ottawa and are one of the top destinations for tandem skydiving in Canada.
You're in excellent hands.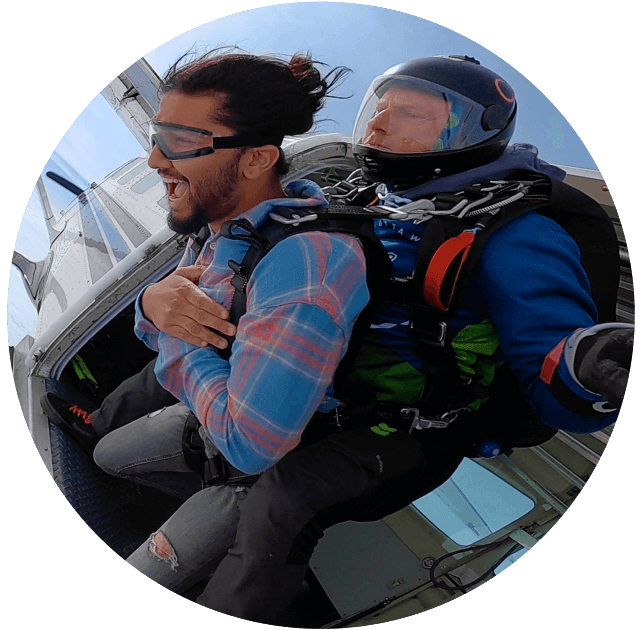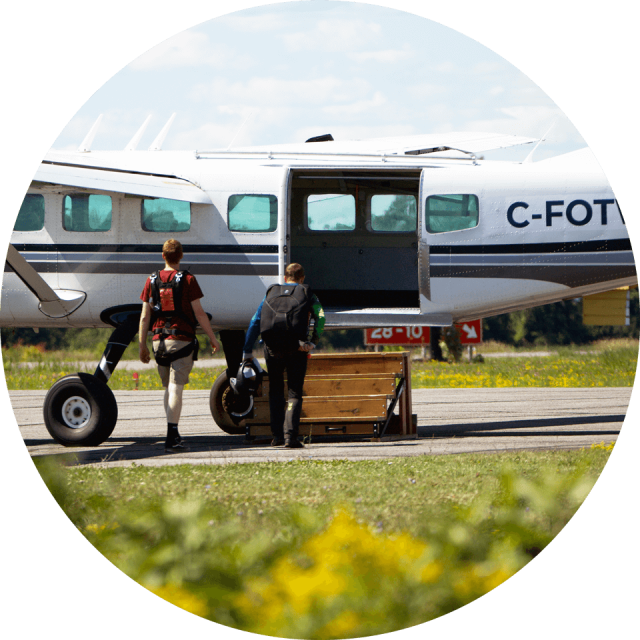 The Big Day
Bring your best self to the dropzone. Get a good night's rest (save your 2-4 for after your jump), eat a normal breakfast, and pack a cooler with water and snacks. From check in to landing, you will spend up to 3 to 4 hours with us.
Arrive at your scheduled reservation time – and don't forget your government-issue ID!
Prepare For Take Off
First things first – training! You'll receive a 15-20 minute one-on-one training session with your instructor before your jump. The most important thing to retain: lift your legs on landing. (Your instructor will remind you; don't worry!)
Next, we'll kit you out with the tandem skydiving harness that will securely attach you to your instructor, as well as some protective goggles – you don't want to miss these views! If you would like a jumpsuit, just ask!
Jumpers Away
Once you board the aircraft – Bruce – you'll take a speedy ride up to altitude. At the pilot's signal, you and your instructor will shimmy to the door and leap into the great blue yonder. THIS is what you've waited for!
If you're hopping out at 12,500 feet and have purchased video (pro-tip: get the video!), you'll be accompanied by a videographer too.
Freefall
Skydiving freefall is like nothing else you've ever experienced. You fall at speeds of 120 mph (200+ km/h) – but you don't feel like you're falling at all, you feel like you're floating on air (because you are!). Cast your worries to the wind! Scream! Shout! You're flying!
At about 5,500 feet, your instructor will deploy the parachute.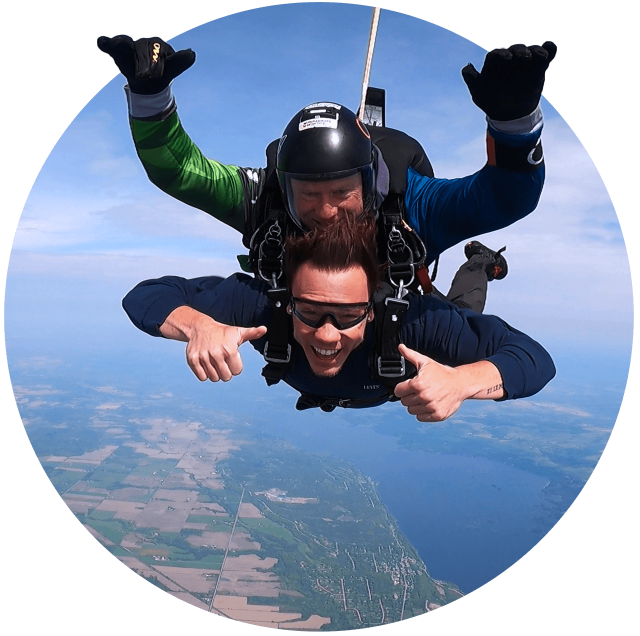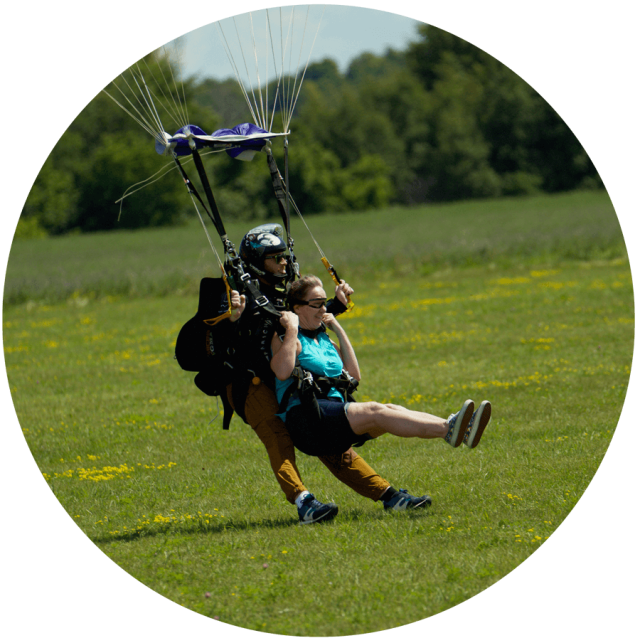 Canopy Flight
And just like that, you're sailing peacefully over the sparkling waters of the Ottawa and Madawaska rivers. On the clearest of days you can see the Gatineau Hills, Ottawa City skyline, Pakenham, Pembroke, and maybe even your house?!
You'll be under canopy for a few minutes. Let your instructor know if you want to fly mild or wild.
The Landing
As you prepare to make your entrance, your instructor will remind you to lift your legs for a smooth landing. You'll touch down, and then freak out for a whole 'nother reason: YOU FLEW!
The day is yours from here – head out if you're ready, or hang out with us at the DZ. You're a member of the PO family now!
Bring Your Buddies!
Bring a group and save – the bigger, the better!
Group Rates
| Group Rates | Discount Rate |
| --- | --- |
| Group of 5-9 | $10 discount per passenger |
| Group of 10+ | $30 discount per passenger |
Flash Your Military ID
We are proud to serve and train the Canadian Armed Forces.
Military Rate
Military Rate
Discount Rate
Military Tandem


Must present valid CF-One or Active/Veteran Military ID

$50 discount per passenger
Wanna Go Again?
Take a more active role and fly the parachute!
Advanced Tandem
Option
Price
Fly The Parachute -

Practice altitude awareness and canopy flight basics

$422
Have Questions?