How much does skydiving cost in Ottawa?
DZ News
Posted by: Parachute Ottawa 4 months ago
Deciding to jump out of an airplane brings up a lot of questions, mostly about safety and regulations. But once you get through those concerns, the topic of skydiving cost tends to come up. With no sense of the market and nothing to compare the cost of skydiving to, it would be impossible to guess how much you might pay for a ride up to the greatest adrenaline shot of your life.
So how much does skydiving cost? Tandem skydiving prices vary depending on location, altitude, and group size. As far as skydiving in Ottawa, cost is straightforward and flexible! We have several different options, from a no frills freefall from 9,000' to a high-flying marriage proposal with your entire future wedding party!!
At Parachute Ottawa, we can accommodate a wide range of needs regarding price, time commitment, and group size, and it's all up to you! Take a look at all we have to offer and figure out what fits best with your adventurous spirit!
Explore Your Options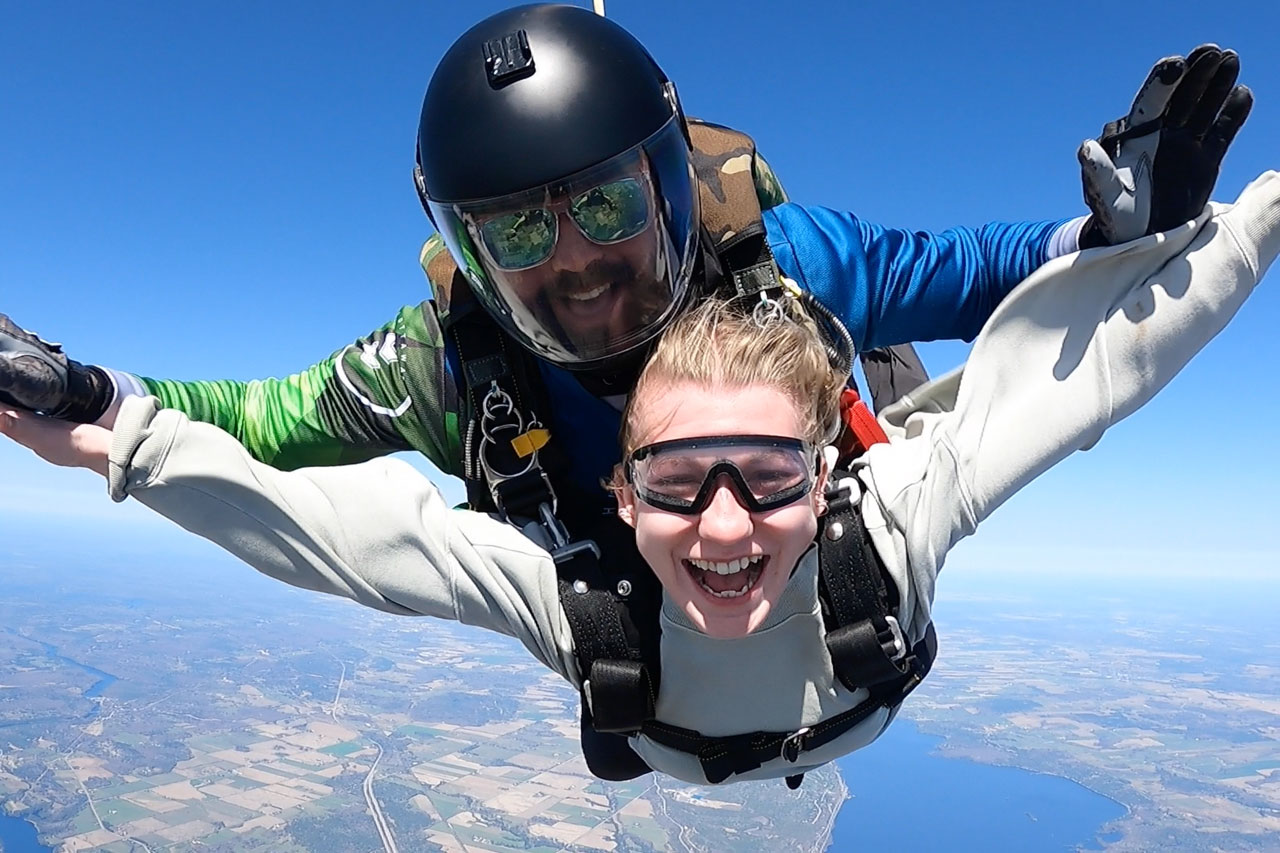 So you want to go skydiving … now what? You know you want to jump out of an airplane, but what does that look like? How much does it cost? How long does it take? Fortunately, we can answer all those questions AND make it happen.
If it's your first time skydiving, you're going to be looking at going tandem. It's not only the safest way for you to jump, but also the most chill. You'll have a highly experienced instructor strapped to your back to take care of all the major responsibilities of the skydive while you enjoy the view.
Our first, and most accessible, tandem skydiving option is the 20-second freefall jump from 9,000 feet. This is the package for the person looking for a straightforward, fly through the sky and land experience. It's still plenty high enough to get a surge of adrenaline and it comes in at just $299.
Our other packages are for people looking to go full send. The 60-second freefall option exits the plane at 12,500 feet (that's over 4 kilometers, for those who are counting) and costs only $35 more than the 20 second freefall package. That's three times as much freefall for the price of dinner!
Our newest package is called the Advanced Tandem. This experience is for those who have made a tandem or two and want to get a taste of what's involved in learning how to skydive. You'll jump from 12,500 feet, stay altitude aware during freefall with your own altimeter, and practice the basics of canopy flight following parachute deployment. All of this jam-packed adrenaline will cost you $422. So worth it!
Pro tip: You can also get video of the 12,500' jumps, but more on that later.
Going Solo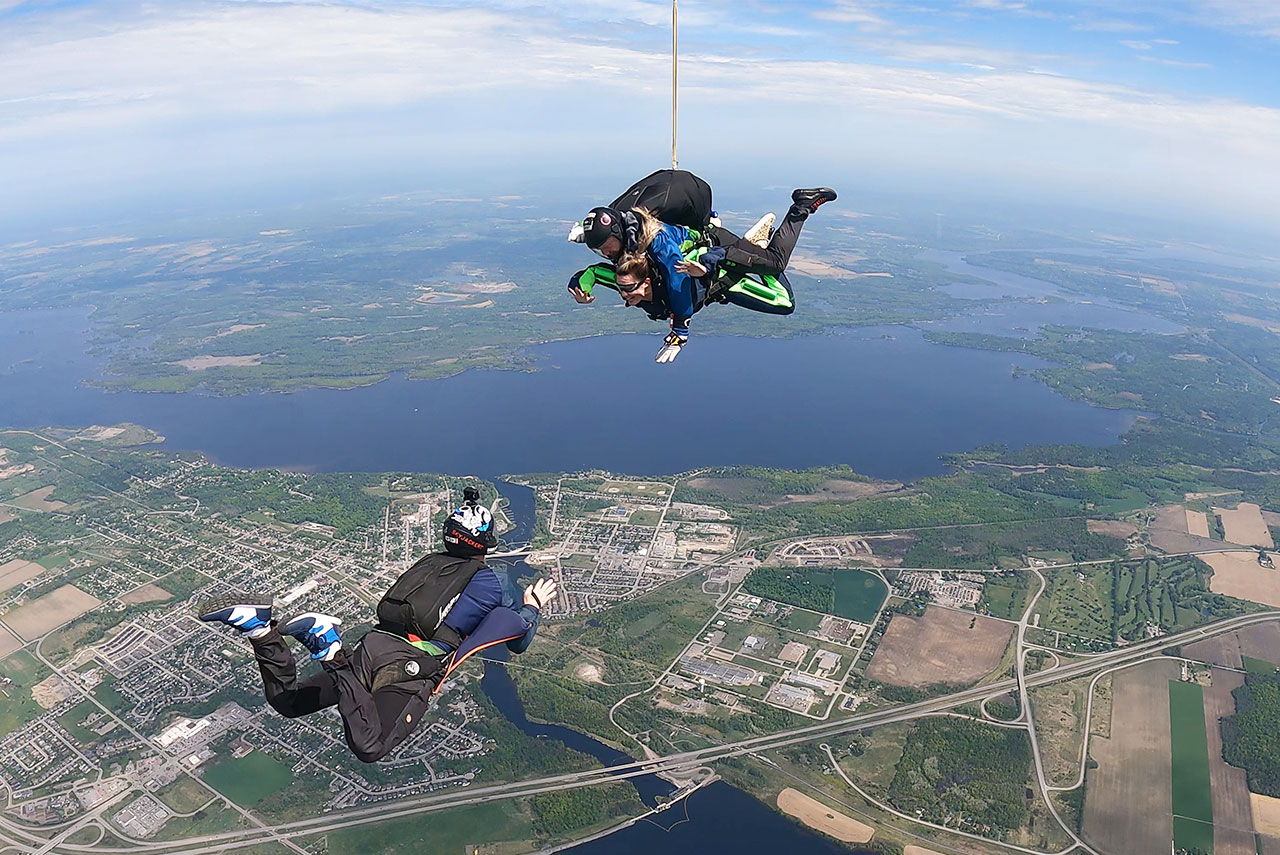 What's left once you've completed your tandem skydives? Well, more options! Just because you've done a couple tandems doesn't mean you can't keep doing them. Plenty of people do tandem skydives throughout their life and enjoy it as an occasional pick me up.
But if you're one of those people who can't stop thinking about the sky, it's time to kick things up a notch. Our Advanced Tandem is a great teaser, but our student program will take the training wheels off. You'll receive comprehensive training and thorough evaluation so you can pursue your very own skydiving license.
Obtaining this ticket to the sky comes with a few different steps and costs. The Progressive Freefall program, or PFF, includes a ground course, double instructor, and single instructor jumps. This is designed to slowly ease you into being in the sky alone.
Parachute Ottawa offers all of this in one convenient weeklong training camp for $3,487. And after that, you're onto your Solo Certificate of Proficiency (CoP)! Once you have your Solo, you are then able to begin working on your A CoP – which you can achieve with support from our A Program. We'll help you fine tune your flying and hone your skills as a skydiver for just $1,200.
Who Doesn't Love a Discount?
Talking your friends into joining you isn't just good for your morale. They'll help you save money! Our group rates reward you just for making your experience more fun!
For groups of five to nine people, there's a $10 discount applied to the cost of each person's jump. And for groups of 10 or more, it's a $30-per-jump discount! Apparently friends are worth more than just a good time!
Are all of your friends scaredy cats? That's ok, you can still get some money off for yourself. Book a Thursday or Friday tandem and save some heard-earned dough! Jumping out of an airplane is better than going to work anyway …
Priceless Memories
Alright, so you've got your jump arranged. Date: check. Posse: check. Payment: check. That's it, you're good to go!
Not so fast. There's more to consider. You have the option to get video of any jump that exits at 12,500 feet. And take it from us, documenting the experience is a great idea.
Your senses are going to be so overloaded on your first jump because you will be truly living in the moment. That means that some of your memories may be fuzzy or even missing by the time you plant your feet back on the ground. Get video, though, and that won't be a problem! Plus you'll get to show all your friends and family how cool you are!!
Just like our jump options, we have different media packages to fit your needs. Our Basic Package costs $170 and includes outside video and photos. With this package, a second skydiver would come along on the jump and fly around you and your tandem instructor to catch all your best angles.
Our Premium Package includes everything the Basic Package offers, but adds what we like to call a selfie camera. The selfie camera is worn on your tandem instructor's hand and catches an up-close-and-personal view of you throughout the entire jump, even after the parachute opens. This VIP experience is $245 and is worth every penny.
Adding the selfie camera is a big deal because having a videographer only means that after the parachute opens, the video will end until you're back on terra firma. (The videographer has their own parachute to tend to!) The selfie cam captures additional angles AND includes the parachute ride.
Your Special Day
One very special package we offer lets you tell the person you love just how much they mean to you. Is there a better way to say "I want to spend the rest of my life with you" than by making it through death-defying stunts together? Okay, maybe not quite death defying, but you get the idea.
You can elevate your tandem skydiving experience by factoring it into the perfect marriage proposal! We have three different options for popping the question, and every one of them will be an offer they can't refuse.
Our first option – the Pop the Question Package – costs $100 and includes a 6' x 20' Will You Marry Me? banner laid out in the landing area for your love to see as they come in to land. For $215, you upgrade to the Celebration Package and add a bouquet of flowers to the banner. And for $375, the Ultimate I Do Package includes all this, plus a ground-level photographer to capture all the emotion and kisses when the engagement is official.
Talk about blowing them out of the water (or sky)!
Have questions about any of these options? Give us a call to talk through what experience would be best for you!